6 Ways to Treat Your Dog's Bad Breath in Winter Haven, FL
Are you a dog owner? Are you unfortunately aware of your dog's bad breath? Although dogs naturally have breath that tends to smell like their dog food, there are some situations that may lead your dog to developing even worse breath than usual.
In this article, we'll show you six different ways to deal with your dog's bad breath in Winter Haven, FL. These options may not all work for your dog, but you should consider each one to figure out which is best for his needs.
Dental Treats Help with Bad Breath for Dogs
One of the easiest ways to deal with bad breath in dogs is to feed them dental treats. These treats are available in many different sizes for all breeds and life stages, and they include healthy ingredients such as mint that naturally freshen while cleaning your dog's teeth at the same time.
Dental treats are a great way to maintain a dog's breath and dental care between cleanings, but they shouldn't be the only solution you try. When combined with other suggestions on this list, however, dental treats can make a big difference in the way your dog's breath smells.
Try Better Quality Dog Food
Sometimes, a dog's bad breath may come from the kind of food he eats. If your dog is on low-quality food, it may cause his breath to smell worse than it should. By changing your dog to a food with higher-quality ingredients, you may be able to freshen his breath.
Keep in mind that dogs should have dry food in their diets to help with their dental health. Dry food can help your dog's teeth stay cleaner and prevent the buildup of plaque, which can cut down on the severity of bad breath as well.
Teeth Brushing Helps Fight Your Dog's Bad Breath
By brushing your dog's teeth at home, you can help his breath smell better and help him maintain good dental health at the same time. However, some dogs may be afraid or become aggressive when having their teeth brushed, so it can take some time to encourage your dog to allow this.
Start by getting your dog familiar with having his teeth touched. From there, introduce a dog-safe toothbrush and toothpaste. With time, he should get used to these aspects of the process and should let you brush his teeth. Be sure to brush a few at a time at first for best results.
Prevention of Behavioral Problems and Bad Breath
In some cases, dogs may develop bad breath because of behavioral problems—particularly when it comes to what they eat. If your dog is prone to eating garbage or getting into the cat's litterbox, this is something you may need to work to prevent.
Try investing in a garbage can that is too tall for your dog to get into, or go for one with a locking lid if you have a larger dog. Choose a garbage can made of metal so he cannot chew through it. Keep the litterbox in another room that is separated by a door or baby gate so your dog will be unable to get to it.
Veterinary Dental Cleanings in Winter Haven, FL
Having your dog's teeth cleaned regularly by the vet can help his breath stay fresher for longer. This can also improve his overall dental health and keep your dog from developing more health problems related to his teeth over time, too.
Most vets recommend yearly dental cleanings for dogs. However, this may vary depending on your individual dog's needs. Some dogs with underlying health conditions or dogs who are older may not be able to have their teeth cleaned, so check with your vet for more information.
Health Care Checkups
Finally, if you notice your dog's breath smells sickeningly sweet, you should have him checked by the vet for health problems. Breath that smells too sweet is usually a sign of liver disease or kidney disease in dogs, and it may also be related to diabetes. A smell of ammonia on the breath can signify these problems as well.
At his appointment, your dog will undergo bloodwork and other tests. Your vet will be able to tell if your dog is suffering from any of these problems and can make suggestions about how to move forward from here.
If you have any further questions about your dog's bad breath, be sure to work with your vet to find the right solution to the problem. Your regular vet will be able to tell you specific information related to your dog, and will give you suggestions that might be able to help.
Bad breath is not concerning by itself, but since it can be a sign of underlying health problems, it's important to figure out what's causing it sooner rather than later. In most situations, you can easily take care of the underlying cause and help your dog's breath smell better soon.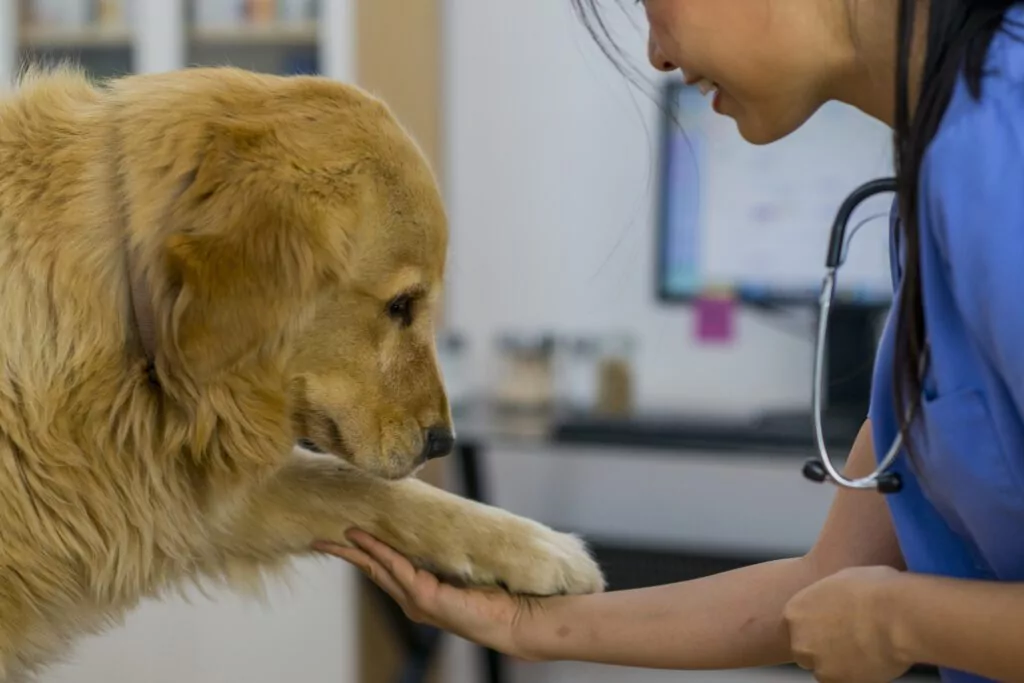 Can Dogs Get Chemotherapy?  If you've ever wondered if dogs can get chemotherapy, you're not alone. Chemotherapy…
About Veterinary Healthcare Associates
Veterinary Healthcare Associates in Winter Haven, FL, was established over 30 years ago as Maxwell Animal Clinic by Dr. John Maxwell. Maxwell Animal Clinic was a one-doctor general practice offering preventive care, dentistry, and standard surgical services to the community. As the years passed, Maxwell Animal Clinic evolved into a thriving 10-doctor general, specialty referral, and emergency veterinary practice.