8 Helpful Tips for New Puppy Owners
Bringing a puppy home is a happy, joyous occasion. There are some significant variables involved in caring for your new dog. You will need to get all the suitable toys and determine house rules.
You must find the right veterinarian and schedule important vet visits. Best of all, get ready to prepare your family for the beautiful new change!
Your new puppy already loves and depends on you. Read this article and find out eight helpful tips for new puppy owners.
What Are Some Helpful Tips for New Puppy Owners?
Your puppy will need some guidance, direction, and positive reinforcement when they come into your home. You want your house to be as inviting as possible for your new family member. Have some patience and understanding, as your puppy is learning.
It takes time and practice to turn into a responsible dog parent. You will learn right along with your dog. The following are some helpful tips you can employ when you are introducing your puppy into your home.
Puppy Proof Your Home
Much like babies, puppies are curious creatures. They can get into trouble quickly. You should puppy-proof your home the way you would baby-proof your home. You want the house to be safe for them, and they are comfortable.
You should first remove any or hide items that may be toxic to them, such as plants and chocolate. Store your trash where they cannot get to it, like in the cupboard or the garage. You do not want them eating garbage because it could make them sick.
Ensure the home is free of dangerous electrical cords they may be tempted to chew on. If there are certain areas in the home, you do not want your pup to roam, and you can set up baby gates to set boundaries.
You can also make sure they have nice areas in the home for them to eat, drink, and sleep. This area will make them feel comfortable and loved.
Introduce Them to Their New Family
Introduce your puppy to their new family one member at a time. This slow pace will prevent them from feeling overwhelmed. If you have children, make sure they treat the puppy well and teach them how to play with the puppy.
If there are other animals in the family, try to limit contact until your puppy has had their required vaccinations, especially if there is another dog in the house. If there is a cat, be sure to have them play nicely together. If there is any aggression, acclimate them to the new situation gradually.
Give Them a Variety of Fun Toys
The sort of toys you select for your puppy will depend on their size, temperament, and breed. Get them a wide array of toys to choose from. Some of the best toys to get for a puppy include the following:
Squeaky toys
Food puzzles
Interactive toys
Plush toys
Frisbees
Balls
Rope toys
These toys are all acceptable and fun for your pup. Just be sure to make time to play with them every day, as it will help you create a solid bond with your dog.
Pick a Spot for Your Dog to Go Potty
Choose a good spot outside for your dog to go potty. Make sure that the area is appropriate to the size of your dog. If the dog is small, they will not need as much space. Bigger dogs need more. If you take your dog for a stroll and they choose their spot, this is good as well.
Try to keep the area clean. Do not let the area get too dirty, or your pup may no longer want to go in that spot. Be considerate and tidy up after your dog.
Begin to Teach Your Dog the Rules
Puppies need structure, consistency, and direction. If your dog is displaying behavior that you want to address, such as chewing on your shoes, use gentle redirection. Yelling at them and punishing them is not a good way to teach your dog.
They will only become scared or confused, so be gentle but direct when teaching your new puppy. Praise them when they pay attention to you, and they will learn.
Get Your Puppy Microchipped
The American Kennel Club reports that one in three dogs go missing at some point in their lifetime. A collar can easily fall off. On the other hand, a microchip will be a more reliable way to obtain your contact information.
This chip will increase the chances that they will be found if your pup should get lost. It is the best way to ensure a happy reunion with your lost puppy. You will be so glad you had your dog microchipped if you encounter this situation.
Enroll Them in Puppy Classes
Puppy classes will create positive experiences for your dog, as early socialization will help them with behavior and communication. They will learn basic commands, behave appropriately, and have proper socialization with other dogs and their pet parents.
Positive interaction and safe play are priorities for whatever classes you decide on. S.T.A.R. Puppy classes are a great way to train your dog. The acronym for Socialization, Training, Activity, and Responsible owner is the initials S.T.A.R.
Classes take six weeks to complete, and your pup will receive the A.K.C. S.T.A.R. puppy medal for their participation. The purpose is to make sure you and your puppy are off to a good start.
Start Your New Puppy Off On the Right Paw
Nothing is more thrilling than bringing a new puppy home to you and your family. Make sure you are adequately prepared to give your canine companion a good home and lots of love.
At VHA, we're here for all your new puppy needs. Whether it's wellness exams, vaccinations or anything in between – we have you covered!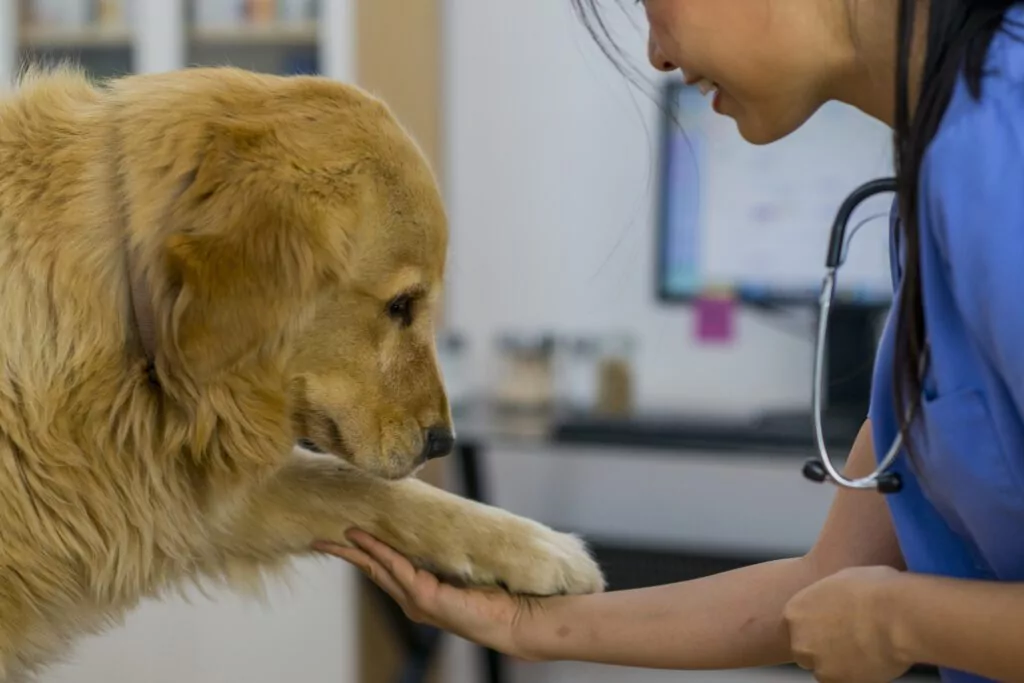 Can Dogs Get Chemotherapy?  If you've ever wondered if dogs can get chemotherapy, you're not alone. Chemotherapy…
About Veterinary Healthcare Associates
Veterinary Healthcare Associates in Winter Haven, FL, was established over 30 years ago as Maxwell Animal Clinic by Dr. John Maxwell. Maxwell Animal Clinic was a one-doctor general practice offering preventive care, dentistry, and standard surgical services to the community. As the years passed, Maxwell Animal Clinic evolved into a thriving 10-doctor general, specialty referral, and emergency veterinary practice.