Ten Best Dog Breeds for Families
Dogs are valuable members of the family and the heart of the home. They give us unconditional love and a cuddle buddy to snuggle up with. Dogs come in many different shapes, sizes, and breeds. Which dog breed is best for families?
Some best dog breeds for families include collies, golden retrievers, and Irish setters. Your family may look for a companion to take to the park and play frisbee or a buddy to roam the city with. Whatever the case, there is a dog out there that is perfect for your family.
Searching for the right family dog can be challenging. This article can help you find the best dog breed for your family.
What Are the Best Dog Breeds for Families?
When looking for a family dog, remember that some dogs are better suited to run around on large areas of land, while others are perfectly fine living in the city. You will want your dog suited to your family and home, especially if you have children.
The best breed for your family is one that has the temperament you want, getting along well with everyone in the house, including other pets. You will need to figure out what is important to you in a dog.
As far as family dogs are concerned, the following pups make for superb canine companions:
1. Golden Retriever
When it comes to family dogs, the golden retriever makes top billing. They are the most iconic and adored breed for families eager to welcome a new furry friend into their home. They are also fantastic with kids, making them the ideal family pet. Some of the personality traits of the golden retriever include:
Gentle
Laid-back
Tolerant
Playful
Smart
Affectionate
These dogs are extremely loyal to their humans and are easy to train. They tend to bond well with their families and share much love. Golden Retrievers also have lots of energy that must be released, requiring a fair amount of daily exercise. This makes them perfect for families that want to go to the park and play fetch with their tail-wagging best buddy.
2. Labrador Retriever
The Labrador Retriever is another popular family dog. They get along well with everyone, including any other four-legged family members you may have in the home. They are also great with children and cannot resist a fun play session. Some of their endearing qualities include:
Affectionate
Intelligent
Loyal
Gentle
Even-tempered
Outgoing
Labs are also very active pups and require a lot of daily exercise. They also love adventure and would be perfect for participating in any adventure your family embarks on, such as activities like swimming or hiking. The American Kennel Club says they are incredibly versatile and like to do everything from hunting to dock diving or tracking.
3. Beagle
Beagles are smaller pups who are devoted to their families and are great with kids and other dogs. This dog is the breed for you if you want a pup to be excited to see you when you get home from work. Some of their characteristics include:
Loving
Playful
Outgoing
Even-tempered
Curious
Clever
The American Kennel Club recognizes that Beagles are the best breed to have around cats. Due to their easy-going temperament and friendliness, they can bond with your feisty feline as much as they would another dog. Beagles also love socializing and thrive on playdates with other pups. Take them to the dog park as much as you can.
4. Bulldog
How can you not love the distinct and wrinkly face of the bulldog? Bulldogs are an excellent breed for families with children. They do not require an abundance of exercise like other dogs, which makes them the ideal family pet for those with busy lifestyles. However, they do offer a lot of love. Some of the traits of the Bulldog include:
Gentle
Calm
Easy-going
Loving
Playful
Amusing
Bulldogs are suitable for living in the city, as they do not require too much space. These are low-maintenance pooches that are happy to spend time indoors getting lots of belly rubs and pets.
5. Poodle
Poodles may have a reputation for being hoity-toity, but the rumors are not valid. Poodles are fun dogs that are easy to train and eager to please. They have great energy for children who want a dog to play with. You can choose the best size for your family: toy, miniature, or standard. Some of the traits of the poodle include:
Loving
Cuddly
Gentle
Highly intelligent
High energy
Tolerant
Another attribute of the poodle breed is that they are hypoallergenic dogs, which means that they do not shed as much and are ideal for family members with allergies. Poodles also love to participate in fun activities, as they excel in dog sports like agility.
6. Collie
Remember the old tv show "Lassie" that ran from 1954 to 1973? The show was based on the fictional Collie named Lassie, and it was beloved by many American families, especially children. Collies have an excellent reputation for a reason since they make wonderful family dogs. Some of the attributes of the Collie include:
Loyal
Affectionate
Graceful
Intelligent
Proud
Devoted
Much like Lassie, the Collie is easy to train and wants nothing more than to please their humans. They are highly active dogs that are fun to exercise and play with. They are ideal for families with children, as the Collie tends to fall in love with their youngest masters.
7. Irish Setter
Otherwise known as "Big Red" for its gorgeous reddish-brown chestnut-colored coat, the Irish Setter is a large dog full of energy. They are great companions for children and love being exercised and playing catch. Perfect for active families, the Irish Setters are an outstanding choice for families who love spending time outdoors. Some of the characteristics of the Irish setter include:
Outgoing
Sweet
Playful
Affectionate
Energetic
Faithful
These high-energy dogs love to run, so be prepared to get some exercise yourself! Irish Setters are also as great with other pets as they are with little ones.
8. Cavalier King Charles Spaniel 
The Cavalier King Charles is a small spaniel and is a great dog for families with children. They are best known for their adorable and recognizable facial expression, and they love nothing more than to sit on your lap and give and receive affection. These pups do not need a lot of exercise and only need a small yard for activity; they demonstrate the following traits:
Gentle
Affectionate
Sweet
Adaptable
Dignified
Curious
These dogs get along with everyone, including other four-legged family members. The only downside to having this dog is that they are prone to separation anxiety. When you have this dog, you can spend a lot of time with them and socialize them properly.
9. Bichon Frise
According to The American Kennel Club, the Bichon Frise is a delightful little creature who "wants nothing more than to win your heart." They are good lapdogs and tend to fall in love with everyone they interact with. They are perfect for families with children due to their friendly nature. Some of the characteristics of the Bichon Frise include:
Sociable
Adaptable
Affectionate
Sensitive
Playful
Energetic
The Bichon Frise is also hypoallergenic, which makes them suitable for those who suffer from allergies. They will also typically bond with other pets in the home.
10. Mixed Breed/Rescue Dogs
Last but not least, mixed breeds or rescue dogs make great pets because any pup that has been homeless for a long time appreciates a loving family and a safe place to rest their head. Also, rescue dogs are known for being fiercely loyal. Once they begin to trust you, nothing can break that bond.
The most significant benefit of adopting a rescue dog is saving a life. Even if you are adopting from a no-kill shelter, the dog you adopt has been through substantial hardships and loneliness, and you bringing them into your home will not only change their lives, but it will also change yours.
Conclusion
Choosing the right dog is an important decision. Hopefully, this article has given you insight into what you want in a pup to share with your family.
When you do bring a new pup into your home, be sure to reach out to your veterinarian to get them a wellness check and a vaccine schedule. Veterinary Healthcare Associates in Winter Haven, FL is available at (863) 324-3340 for any questions regarding puppy wellness and vaccines!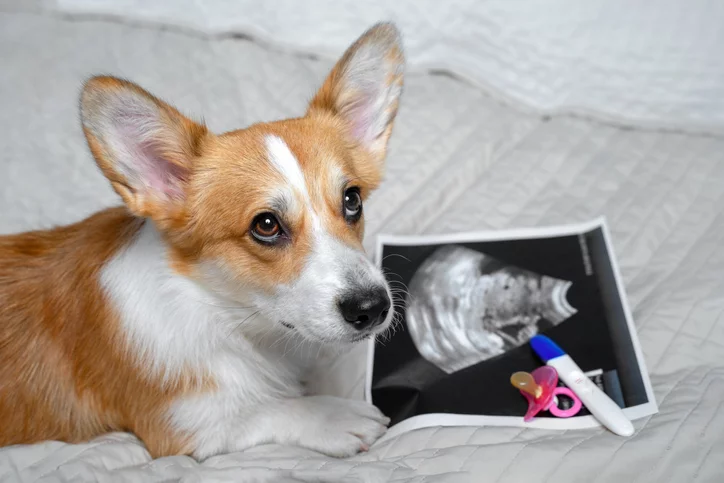 Stages of Pregnancy in Dogs Like most other mammals, dogs can get pregnant if they have not…
About Veterinary Healthcare Associates
Veterinary Healthcare Associates in Winter Haven, FL, was established over 30 years ago as Maxwell Animal Clinic by Dr. John Maxwell. Maxwell Animal Clinic was a one-doctor general practice offering preventive care, dentistry, and standard surgical services to the community. As the years passed, Maxwell Animal Clinic evolved into a thriving 10-doctor general, specialty referral, and emergency veterinary practice.