6 Symptoms of Allergies in Dogs in Winter Haven, FL
Does your dog have allergies? You might be surprised to learn just how common allergies are in dogs. In fact, many dogs take allergy medications or must eat special food blends to prevent their allergies from getting too out of control.
If you think your dog might have allergies, it's a good idea to learn more about the symptoms of allergies in dogs. In this article, we'll show you six of the most common allergy symptoms you might notice in your own furry friend.
Your Dog Has an Upset Stomach
An upset stomach is a sign that your dog is allergic to his food. Food allergies in dogs is extremely common, so if you notice your dog suffering from frequent stomach upset, consider that this might be a possible problem.
If you think your dog has a food allergy, try switching him to another food made up of different or higher-quality ingredients. Your vet may also be able to help you determine the most likely cause of the food allergy depending on the ingredients in the food you've been feeding your dog as well.
Their Skin is Irritated
Skin irritation such as hot spots or flakiness can be caused by allergies. Dogs with food or pollen allergies are very likely to have these kinds of skin problems, but you may need to part their fur and look closely at the skin to recognize this problem.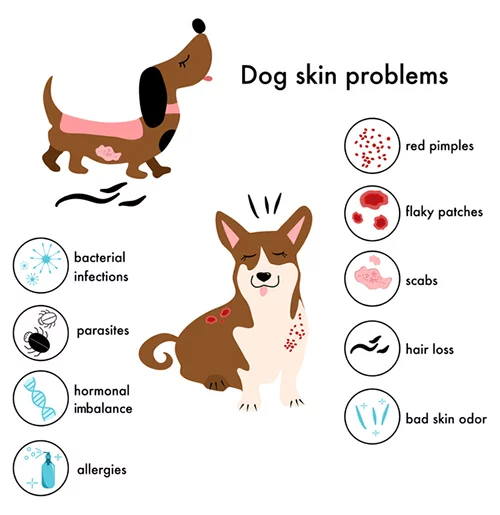 If your dog has developed skin irritation related to allergies, your vet can help. You may need to give your dog medications to help deal with the inflammation, but he will most likely simply need a topical ointment for a few days to help his skin start to heal. Only give your dog medications and treatments as directed by your vet.
They Develop Redness and Hives
Dogs who come into contact with a physical contaminant, such as a plant they are allergic to, may develop redness, rashes, and hives. This is called acute dermatitis, and it is very common in skin allergies in dogs. This can also occur when a dog is bitten or stung by an insect or snake; if this happens, however, you should look for other signs that your dog might be having a more serious reaction.
Hives usually go away on their own after a few days. However, in severe cases, your dog may need steroid medication to overcome a bad bout of hives.
Your Dog's Coat Condition is Poor
Many kinds of allergies can cause poor coat condition in dogs. However, on its own, poor coat condition can be a sign of a variety of ailments and problems, so it's important to look for other symptoms that might be happening along with this one.
If your dog has a skin allergy, he is very likely to have a poor coat at the same time. However, food allergies and pollen allergies can also contribute to this. Check your dog's coat frequently and look for signs that its condition has changed.
A healthy coat should appear shiny and smooth. A poor coat condition for dogs will be brittle or coarse, you should contact your vet about it. As far as their skin goes, healthy skin for dogs should be supple and clear. Signs of poor skin condition can include greasiness, flakiness, bumpiness.
Of course, some dogs' coats and skin will be different than others based on breed. So, if you're unsure about your dog's skin and coat, it's always a safe bet to contact your vet and see what they can determine.
They Are Sneezing and Have a Runny Nose
Sneezing and a runny nose are common symptoms of allergies in dogs, just as they are for humans. This type of allergic reaction can be caused by seasonal pollen allergies, but they can also be caused by acute exposure to an allergen. For example, if your dog is allergic to pollen and goes digging in the flowerbed, he may start to sneeze and have a runny nose shortly after.
By working with your vet, you can figure out the right way to manage these symptoms in your dog. Some dogs may require allergy medication, but you should only give this with the direction of your vet.
Your Dog Keeps Itching Their Face and Eyes
One common sign of allergies caused by pollen and other natural allergens is an itchy face. Just like when humans come down with allergies, dogs may have an itchy nose, itchy eyes, itchy ears, or an itchy face in general. This can be managed with dog-safe allergy medications as directed by your vet.
You can easily tell if your dog's face is itching by watching his behavior. If he frequently rubs his face on furniture, on your leg, or on other pets, he is likely trying to scratch it. Although this is normal every now and then, it's a sign of dog allergies if it happens frequently.
What You Can Do to Help Your Dog with Allergies
Is your dog showing any of these signs and symptoms? If so, this may mean he is dealing with dog allergies. Although allergies alone are not a serious concern in dogs, they can make your dog uncomfortable and can lead to more significant problems later on in his life, too.
It's important to work with your vet and figure out the underlying allergen contributing to your dog's allergy problems. From there, you and your vet can figure out the best method of progressing and the right kind of treatment and maintenance for your dog's allergies.
If you have questions or concerns, or would like to have your pet examined, please call our animal hospital in Winter Haven, FL at (863) 324-3340 or make an appointment online.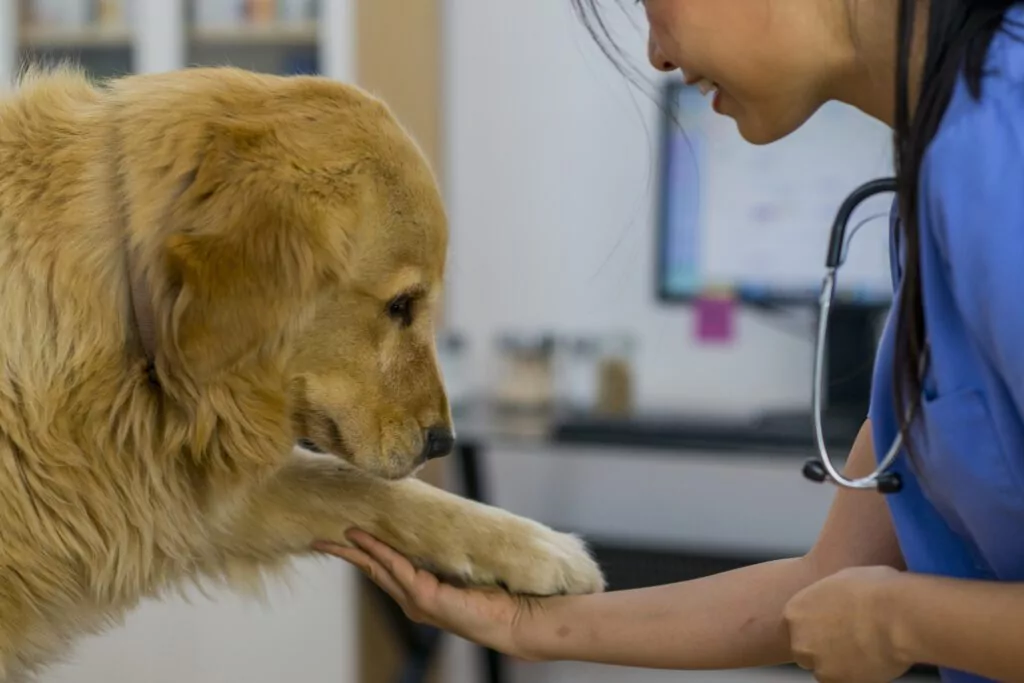 Can Dogs Get Chemotherapy?  If you've ever wondered if dogs can get chemotherapy, you're not alone. Chemotherapy…
About Veterinary Healthcare Associates
Veterinary Healthcare Associates in Winter Haven, FL, was established over 30 years ago as Maxwell Animal Clinic by Dr. John Maxwell. Maxwell Animal Clinic was a one-doctor general practice offering preventive care, dentistry, and standard surgical services to the community. As the years passed, Maxwell Animal Clinic evolved into a thriving 10-doctor general, specialty referral, and emergency veterinary practice.