Hurricane Safety Tips for Your Pets
Hurricanes can be a pretty scary time for both pets and their owners. However, knowing what to do in a hurricane will greatly reduce your risk for getting you and your pets into a truly dangerous situation. Here are some hurricane safety tips for your pets.
When a hurricane is about to strike your area it is crucial that you make some preparations for your pets before the storm hits. This includes having your pets microchipped and up to date on medications.
In addition, you should have a pet emergency bag packed and know where the nearest pet friendly shelter is in the case of an emergency.
In this article we will be giving you all of the hurricane pet safety tips that will get both you and your pets through the storm safely.
In addition, we will also be explaining everything that you should do before the hurricane happens if you have pets. Let's get into these hurricane safety tips for your pets.
Make Sure Dogs and Cats are Microchipped
If you have a dog or cat then it is important that you have them microchipped before the storm hits. This way if your pet escapes or becomes lost you will be much more likely to find them after the hurricane is over.
It is important to mention that you should never tie your dog up or leave them unattended in a crate during a hurricane as they cannot escape rising waters when left in these conditions.
Instead, it is important to always have your pet be supervised and with you at all times.
Have a Plan (And Stick to It)
You should set up a plan before a hurricane hits. This way you have a good idea on what you are going to do.
If you live in an area that is affected by hurricanes often, you may benefit from creating an emergency plan for hurricanes as soon as you bring your pet home.
Once you have a plan for what to do when a hurricane occurs, it is important to stick to that plan. Changing things up at the last minute can not only make the situation much more stressful but dangerous as well.
Have a Pet Emergency Bag
You will need to pack an emergency bag for your pet(s) before the hurricane happens. This will ensure that your pet has everything that they need to stay healthy and safe during the storm.
For both dogs and cats this includes their everyday care items such as food, but you should also have a pet emergency kit packed as well.
This way you can treat your pet if they become sick or injured as you may not be able to reach a veterinarian right away.
The following is a list of items that you should have in a pet emergency bag if you have a dog or a cat.
At least a week's worth of water for each pet
Collars, harnesses, and leashes (you may want some extras just in case)
At least a week's worth of nonperishable pet food (either in cans or a sealed container)
Blankets and toys
Towels
Travel crates for each pet
Food and water bowls
At least two weeks supply of prescription medications
Photos of your pets and pet ID tags (keep them on at all times)
Litter and litter tray (for cats)
Puppy pads, poop bags, and plastic bags (for dogs)
Medical records for each pet
Pet first aid kit
In your pet first aid kit you should have:
Gauze pads and a gauze roll
Adhesive tape
Cotton balls or cotton swabs
Fresh 3% hydrogen peroxide (this is for inducing vomiting when instructed by a vet over the phone)
Disposable gloves (for humans)
Ice pack
Blunt nosed scissors
Tweezers and an oral syringe (a turkey baster also works)
Antibiotic ointment
Dog bath soup (dishwashing soap also works)
Alcohol wipes
Styptic powder
Artificial tear gel and saline eye solution
Towels and a small flashlight
Cards with important information for each pet (their name, breed, coat color, medical conditions (if applicable), vet contact information, and your contact information)
Make Sure Your Pets Are Up to Date With Vaccines and Medications
To keep your pet from developing an illness, it is important to have all of your pets up to date on vaccinations and medications. It is recommended to give your vet a call before a hurricane occurs to ensure that none of your pets are due for vaccinations.
As for medications, you should give your pets their flea, tick, and heartworm prevention medication before the storm hits.
In addition, it is important to have at least two weeks worth of prescription medications on hand as well.
Know Where There is a Pet Friendly Shelter
It is crucial to know where the nearest pet friendly shelter is in case of an emergency. This way you know exactly where to go and how to get there if conditions in your home become too dangerous.
In addition, you should locate some safe spaces in your home for you and your pets as well.
Have an Emergency Pet Sticker on Your Front Door in Case of an Emergency
You may also want to have an emergency pet sticker on your front door. This sticker includes the name of your pets, what they look like, and any medical conditions that they have.
Your emergency pet sticker should also have your contact information, your vet's contact information, and the information of your designated alternate caregiver for your pets.
An alternate caregiver is someone who you trust that agrees to take care of your pets in the event that you have to leave them. This is usually in case of an emergency.
Try to Remain Calm
Throughout all of this it is important to remain calm. You can only properly respond to an emergency situation if you have a clear head and plan for what to do during an emergency.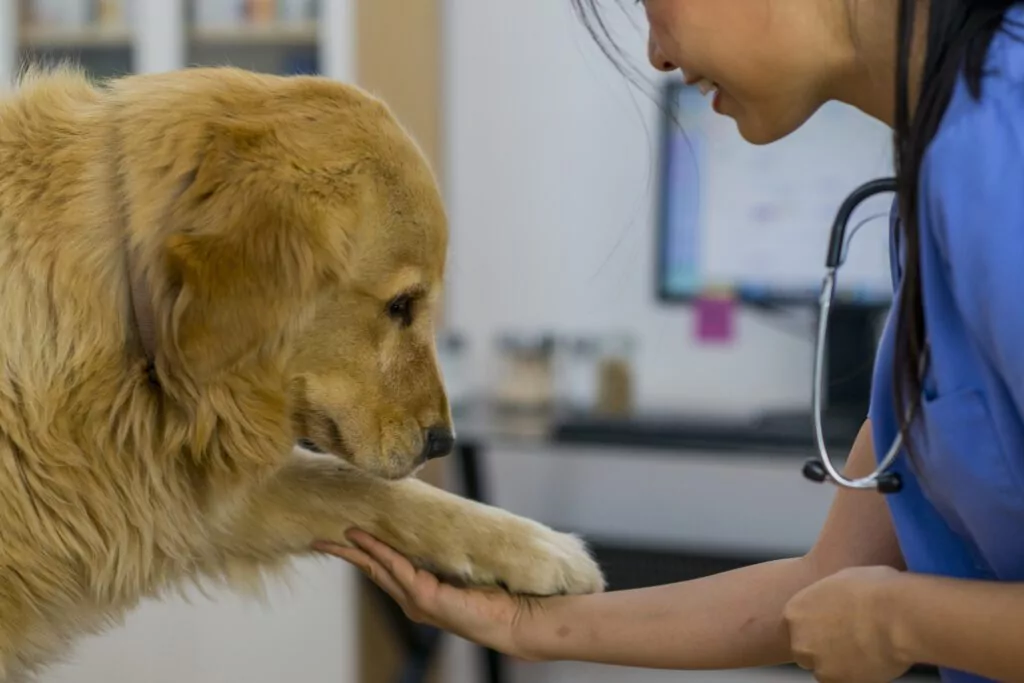 Can Dogs Get Chemotherapy?  If you've ever wondered if dogs can get chemotherapy, you're not alone. Chemotherapy…
About Veterinary Healthcare Associates
Veterinary Healthcare Associates in Winter Haven, FL, was established over 30 years ago as Maxwell Animal Clinic by Dr. John Maxwell. Maxwell Animal Clinic was a one-doctor general practice offering preventive care, dentistry, and standard surgical services to the community. As the years passed, Maxwell Animal Clinic evolved into a thriving 10-doctor general, specialty referral, and emergency veterinary practice.