Dog Flu Symptoms in Four Corners, FL: What to Look Out For
No one enjoys getting the flu, but did you know that our dogs can get the flu as well? In fact, there are technically two strains of the dog flu out there. Today we will be talking about what the dog flu looks like and what symptoms you should look out for in your pets in Four Corners, FL.
Similar to the influenza strains that infect humans, dogs tend to have a cough and a fever when they contract the dog flu. Canine Influenza is transmitted through direct contact and the air after a dog coughs or sneezes, which is also similar to the human strains of the flu.
In this article we will be taking a closer look into what the dog flu is, what it's symptoms look like, and how you can prevent it. In addition, we will be explaining when you should take your dog to the vet for flu-like symptoms. Here are the symptoms of dog food that you should look out for.
What is Canine Influenza?
Canine Influenza, or the dog flu, is a strain of Influenza that infects dogs. There are two versions of the dog flu out there, and they are H3N8 and H3N2. Both of these strains of the dog flu are spread either through the air or direct contact with infected objects or dogs.
It is important to mention that there have been no cases of humans contracting either strains of the dog flu. In addition, there are few cases of the dog flu being life threatening for dogs, and most cases are fairly mild when treated properly.
The H3N8 strain of the flu was originally only passed in humans. However, in 2004 a group of racing Greyhounds in Florida. The H3N2 strain of the dog flu is more recent. This strain is believed to have jumped from only being able to be passed among birds to dogs somewhere in Asia. In the United States the H3N2 strain of the dog flu caused outbreaks in 2015 and 2016 in the midwestern area.
Who is at Risk?
Dogs are most at risk if they are around other dogs for an extended amount of time on a regular basis. For example, dogs who regularly attend doggy daycare or go to the dog park are more at risk than dogs who do not do these things.
In addition, dogs who frequently travel may be at a higher risk of catching the dog flu than those who do not. This is especially true for those who frequently cross state or country borders.
Recently, there has been an outbreak of the dog flu in a dog rescue center in Florida. Unfortunately, animal shelters, kennels, and vet offices are also common places where dogs can contract the dog flu. This is because these places often have many dogs staying in one area, and some of these dogs can be ill.
Although you can not really avoid the vet office, it is recommended that you avoid kennels if there is a dog flu outbreak near you for this reason.
Dog Flu Prevention
Luckily, there are some things that you can do to prevent your dog from getting the dog flu. In the United States there is a canine influenza vaccine for both strains of dog flu readily available. Although this isn't necessarily a vaccine that is required for your dog, it may be recommended by your vet or required by facilities like dog groomers and doggy daycares if the dog flu is prevalent in your area.
In addition, limiting travel to locations where dog flu is prevalent can minimize your dog's chances of catching the disease. It is also recommended that you limit your dog's exposure to other strange dogs if the dog flu is common in your area. This will greatly reduce your dog's chances of catching and spreading the disease.
Of course, if your dog is showing signs of being sick then you should keep them at home as well.
Dog Flu Symptoms
The symptoms of the dog flu are actually pretty similar to those of the strains of influenza that humans can catch, and it can appear to be similar to kennel cough as well.
Some common symptoms of both strains of canine influenza include:
Coughing (dry or wet)
Sneezing
Lethargy
Reduced appetite
Mucus coming from the nose
Fever
Discharge around the eyes
Although the dog flu is not normally life threatening for dogs, you should still take your dog to the vet if they are exhibiting signs of the dog flu. This way they can officially diagnose your dog and give you some advice for treatment and medications if it is necessary.
In addition, you should keep your dog at home and away from other dogs when they are sick.
Dog Flu Treatment for Four Corners, FL Pet Owners
Mild cases of the dog flu usually clear up in about 15 to 30 days, and treatment is usually fairly similar to what we do for the flu. A vet will likely recommend that your dog gets lots of rest and drinks plenty of water. In addition, they may prescribe your dog with some cough medicine.
If you are looking for cough medicine for your dog, then you should ask a vet for some. You should never give a dog any medication intended for human use unless a vet specifically instructs you to do so.
In some rare and more severe cases, the dog flu can develop into pneumonia. In these situations a vet will likely prescribe some antibiotics to help your dog fight the infection. Unfortunately, these dogs may take longer than 30 days to recover. It is important to note that pneumonia is most dangerous for puppies and senior dogs.
A vet will be able to tell you what symptoms of pneumonia to look out for when you take them for the initial dog flu infection. This is why taking your dog to the vet just after you have noticed flu-like symptoms in your dog is so important.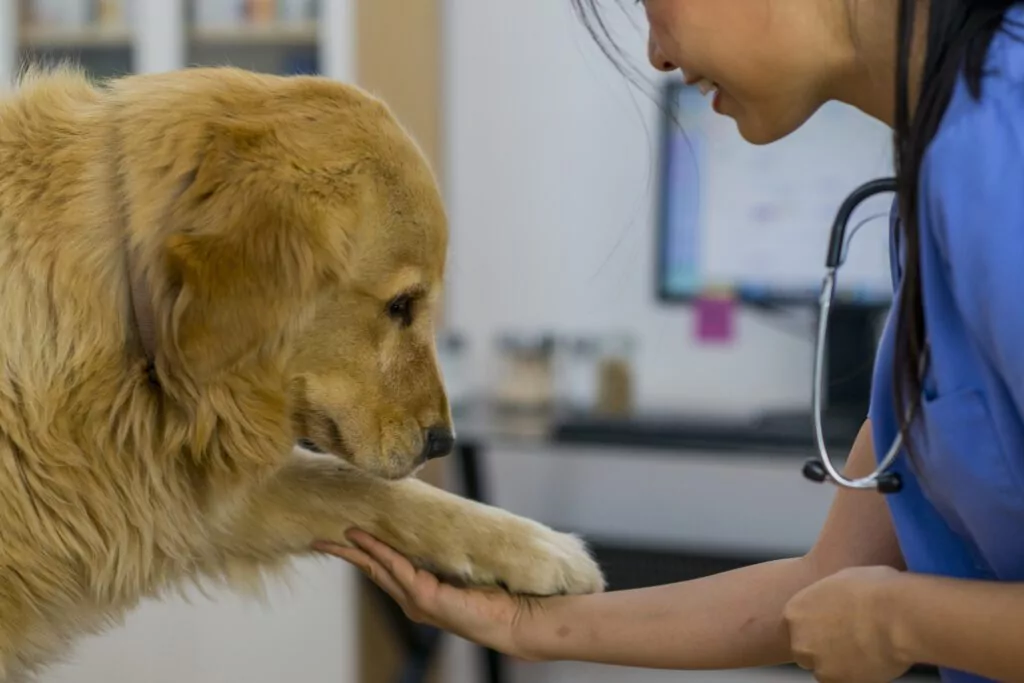 Can Dogs Get Chemotherapy?  If you've ever wondered if dogs can get chemotherapy, you're not alone. Chemotherapy…
About Veterinary Healthcare Associates
Veterinary Healthcare Associates in Winter Haven, FL, was established over 30 years ago as Maxwell Animal Clinic by Dr. John Maxwell. Maxwell Animal Clinic was a one-doctor general practice offering preventive care, dentistry, and standard surgical services to the community. As the years passed, Maxwell Animal Clinic evolved into a thriving 10-doctor general, specialty referral, and emergency veterinary practice.