6 Things to Know About Dog Boarding During The Holidays
The holidays are a wonderful opportunity to take some time off of work and enjoy quality time with friends and family. This makes the holiday season a very popular time for going on vacation. Unfortunately, this often means that we need to leave our furry friends with a sitter or boarding facility.
There are many things to consider when looking to leave your dog with someone. For one thing, you will need to decide if a dog sitter or a boarding facility would make a better fit. You will also need to find a reputable sitter or kennel and prepare your dog for their stay.
In this article, we will explain the six things dog owners need to know about boarding their dogs over the holidays. This will include how to find the best place for your dog to stay and how to prepare your dog for boarding. We will be answering some other commonly asked questions about dog boarding as well. Let's get into it!
1.   Is a Kennel Facility or Dog Sitter Better for You?
You will first need to decide if you would rather leave your dog with a pet sitter or at a boarding facility. There are pros and cons to each. Typically, a dog sitter can offer a more personal dog-sitting experience in the comfort of your home or their home. However, they are often more expensive, have less availability, and they typically don't have the professional licenses and certificates.
Boarding facilities, on the other hand, are typically less expensive and often have more availability. Also, you get the benefit of having professional staff and sometimes veterinarians on-site in the event of a medical emergency along with the necessary licenses and certificates. The cons to a boarding facility is that your pup may get less one-on-one attention, and they may spend a fair amount of time in a kennel compared being able to roam freely.
2.   How to Choose the Best Kennel or Dog Sitter
Once you have decided on which type of boarding you would like to use, you will need to pick the best option. For boarding facilities, it is a good idea to read reviews, meet the staff, and take a look at their facility. This will help you choose the safest and best kennel for your dog.
Meanwhile, you can interview pet sitters and ask them questions. This will help you find a pet sitter that is trustworthy and knowledgeable. Occasionally, you can also read reviews on pet sitters when they are a part of an official site like Wag or Rover.
3.   How to Prepare Your Dog for Boarding
There are some things that you should do to prepare your dog for boarding. It is a good idea to get them evaluated by a vet before boarding. This will ensure that your dog is healthy before their stay. Additionally, getting your dog groomed before boarding is a good idea.
4.   Dog Boarding Checklist
No matter if you choose to leave your dog with a pet sitter or at a large boarding facility, there will be some things that you need to pack. Here is a helpful checklist.
Enough dog food for their whole stay
Comfort items like toys and blankets
A travel crate (in case of an emergency)
Medications and instructions on how to administer them
Some information on your dog's daily routine (for pet sitters)
A collar with an up to date pet ID tag
A brush, nail clippers, and other grooming tools
Information on any medical conditions, allergies, and food intolerances
A card with your contact information
Your dog's medical records and vaccination history
5.   How Long is Too Long to Board a Dog?
When leaving your dog at a boarding facility, four weeks is generally considered the max amount of time you can leave them there. This means leaving your dog for longer than four weeks is considered too long by most dog boarding facilities. In fact, many kennel facilities will not allow dog owners to leave dogs in their care for longer than four weeks.
When hiring a pet sitter the amount of time can usually be longer than four weeks. This is because your dog will not be kenneled for most of the day and will be in the care of one individual. Of course, it always helps to know the pet sitter personally when leaving your dog with them for an extended amount of time.
6.   The Best Way to Leave Your Dog
It is best to stay upbeat and happy when boarding your dog and leaving them with a pet sitter. This is because leaving your dog can be a very upsetting time for them, especially if they suffer from separation anxiety. Staying happy and preventing yourself from becoming emotional can help make your dog feel better about the situation.
Conclusion
The holidays are a wonderful time to vacation and visit friends and family, but it can be difficult leaving your pup behind with a pet-sitter or at a boarding facility. Before booking any stay, be sure to do your homework and look at reviews, meet the staff or sitter, and inspect the facility or home your pet will be staying in.
For dogs in the Winter Haven, FL region, Veterinary Healthcare Associates offers a comfortable, safe, and sprawling environment for boarding. Visit our boarding page or call us at (863) 324-3340 to learn more!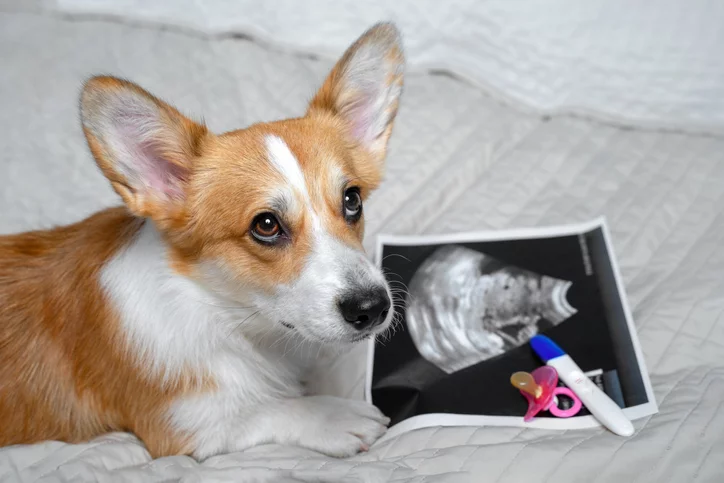 Stages of Pregnancy in Dogs Like most other mammals, dogs can get pregnant if they have not…
About Veterinary Healthcare Associates
Veterinary Healthcare Associates in Winter Haven, FL, was established over 30 years ago as Maxwell Animal Clinic by Dr. John Maxwell. Maxwell Animal Clinic was a one-doctor general practice offering preventive care, dentistry, and standard surgical services to the community. As the years passed, Maxwell Animal Clinic evolved into a thriving 10-doctor general, specialty referral, and emergency veterinary practice.