Benefits of Dog Therapy Training
Dogs are known to flourish when they have a job to perform. Being a therapy dog is an essential job for everyone whose lives are touched by a caring canine.
Some of the benefits of dog therapy training include confidence building, a boost of happy hormones, and unconditional love. Therapy dogs help people who are suffering from trauma. They can assist in a plethora of different situations or circumstances.  
It is crucial to remember that a therapy dog is not a service dog and cannot legally have unrestricted access. If you want to know more benefits of dog therapy training, check out this article.
What is a Therapy Dog?
In accordance with the American Kennel Club,  a therapy dog delivers comfort to individuals within a facility or people who need visits to help them navigate physical or emotional problems. Therapy dogs are not service dogs that provide people with disabilities specialized services. Therapy dogs are also not emotional support animals.
If someone wants an emotional support animal, they must obtain a prescription from a mental health professional. Still, the animal does not need special training or certifications to perform their job.
Dogs do require training to become therapy dogs. However, therapy dogs are not covered by the American Disabilities Act, meaning they do not share the same privileges as those used as service dogs. The following include the type of dogs that are frequently employed as therapy dogs:
Beagle
Saint Bernard
German Shepherd
Poodle
Golden Retriever
Labradoodle
Cavalier King Charles Spaniel
Greyhound
Labrador Retriever
Pug
Most of the time, bigger dogs become therapy dogs. However, smaller pups can be just as diligent with having the work of a therapy dog. Other than these breeds, some other dogs that have been known to become therapy dogs include Pomeranian, Bichon Frise, and Corgi.
Therapy dogs are different from other working dogs because they work for a specific task rather than a specific person. A therapy dog is specially trained to visit hospitals, nursing homes, retirement homes, schools, and other places. They can also offer comfort and support to victims of violence or trauma when they provide court testimony.
Therapy dogs may also help in addiction rehabilitation. They are specially trained for people in crisis situations, as they provide unconditional love to those in need.
What Are the Benefits of Dog Therapy Training?
Therapy dogs form bonds with people who have been through trauma or need comfort. Therapy dogs possess healing qualities, as they are empathetic. There is a plethora of benefits of dog therapy training:
Therapy Dogs Boost Our Happy Hormones
If you bring a therapy dog to help someone in crisis, you will see a marked difference in the person once they interact with the dog. Oxytocin and endorphin levels will increase, and cortisol will decrease. Dogs can also boost dopamine and serotonin. They help people to relax and feel good. Animals also help people feel less lonely, immensely comforting those with trauma.
Therapy Dogs Improve Confidence
Therapy dogs who visit school reading classes have been shown to help children improve their confidence in reading. The kids will often practice reading a book to the dog, which is far less scary than reading it directly to the classroom. You can help a child learn and thrive when you have a therapy dog.
Therapy Dogs Can Help with Relationships
A great example would be an autistic child who has trouble with communication. A dog can help facilitate conversation between an autistic child and their parents. Dogs provide people with disabilities a non-judgmental place to communicate when other people can be challenging to talk to. It gives the personal incentive to try it with a human.
Therapy Dogs Decrease Blood Pressure  
Therapy dogs can help decrease stress levels, heart rate, and blood pressure. When you share affection with a dog, it is a beautiful experience. They help you feel calm, safe, and grounded. These dogs are trained to accept affection from all types of people, as they are incredibly patient and loving.
Therapy Dogs Provide Stability
Therapy dogs can sense when you are not feeling well. When a person is going through a period of grief, a dog will be able to read them, and if their facial expressions are sad, they can feel empathy. Dogs are emotionally intelligent as they respond to human emotions. Therapy dogs are valuable in situations where there is loss or extreme loneliness.
Therapy Dogs Will Be Your Exercise Buddy
Dogs love to be outside exercising. Much like humans, it is how they relieve stress. Playing with a dog can also help you feel better. They are always up for a good game of frisbee or catch. When you exercise with a dog, it relieves feelings of stress and anxiety. It is a healthy experience for both dogs and humans.
Therapy Dogs Provide Routine
Having a therapy dog provides a routine, which is good for people going through a lot. Dogs must be walked, fed, and groomed. Having these responsibilities can take your mind off your problems, and most therapists would say that is healthy and productive.
Therapy Dogs Give Love
The ultimate gift that a human can receive from a dog is unconditional love. Dogs know how to love someone without any judgment. No one should ever feel embarrassed when they need comforting, and no one should ever feel ashamed to cry. Therapy dogs help people connect with their emotions and provide love during times of sadness.
What is Involved in Therapy Dog Training?
Therapy dogs can be trained by a professional, or you can train your dog yourself if you want. You should seek a reputable organization or classes with a skilled teacher to help you train your pup. They can also earn awards for their work.
Therapy dog is an AKC program that identifies the necessary therapy work accomplished by dogs through established organizations based on the number of visits. Dogs are known to enjoy working with people, and if the pup wants to be involved in training, they need proper socialization. Therapy dog training entails several visits to various places to help people in need.
It could be everything from visiting a classroom to helping a child read to a nursing home facility to comfort a sick patient. The AKC Therapy Dog Program gives official titles to dogs who have worked in the AKC therapy dog program. While AKC puts the pup on the right path, they do not provide certifications. The certification is given by a qualified therapy dog organization based upon the evaluation.
You will need an official certification from an AKC-approved dog therapy program. These include:
Alliance of Therapy Dogs/Therapy Dogs Incorporated
Love on a Leash
Pet Partners/Delta Society
Bright and Beautiful Therapy Dogs
Therapy Dogs International
If you go to The American Kennel Club's website, you can find dog therapy groups to help you on your noble quest.
Conclusion
There are many benefits of dog therapy training. Dogs who become therapy dogs are trained to help people recover emotionally from trauma and help with confidence and relationships. They serve a vital purpose to the community of people they serve.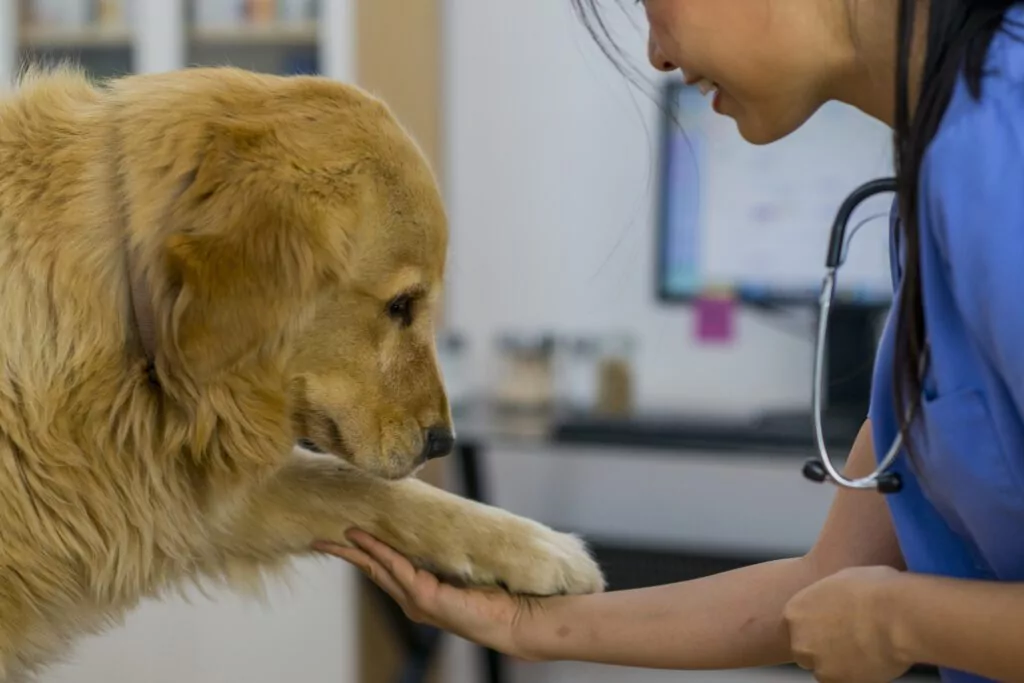 Can Dogs Get Chemotherapy?  If you've ever wondered if dogs can get chemotherapy, you're not alone. Chemotherapy…
About Veterinary Healthcare Associates
Veterinary Healthcare Associates in Winter Haven, FL, was established over 30 years ago as Maxwell Animal Clinic by Dr. John Maxwell. Maxwell Animal Clinic was a one-doctor general practice offering preventive care, dentistry, and standard surgical services to the community. As the years passed, Maxwell Animal Clinic evolved into a thriving 10-doctor general, specialty referral, and emergency veterinary practice.